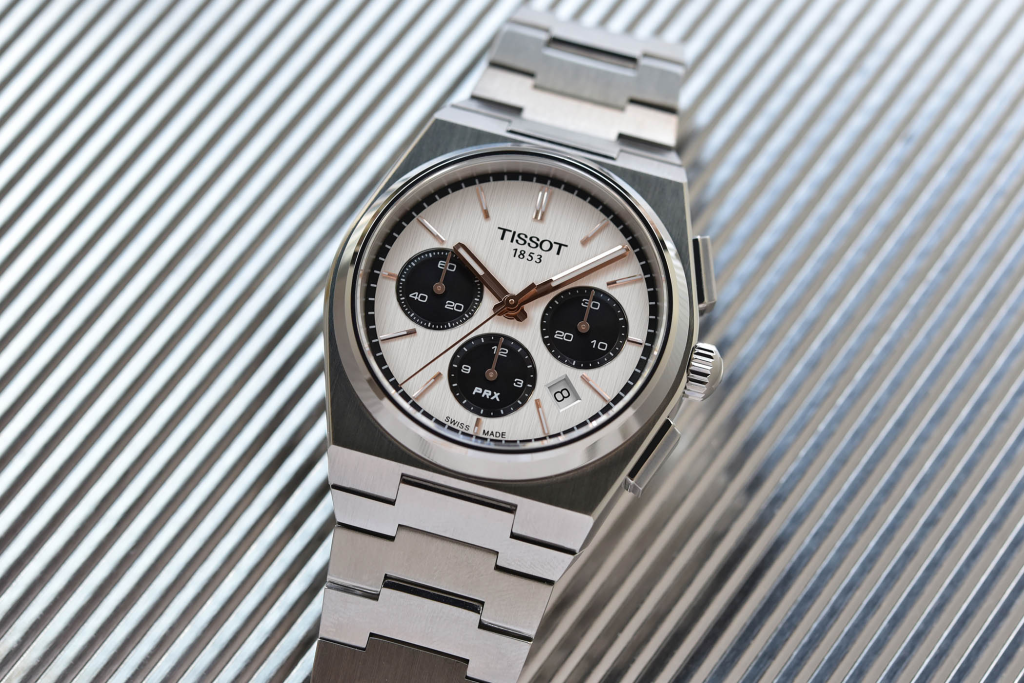 Gotta be honest: not typically a fan of integrated bracelets. It's a remnant of the 70s and a direct thumb in the eye to those of us who like to peacock with a variety of aftermarket bands on our timepieces.
I'll tell you what, though, the elegance of these Tissot PRX designs might just turn me around.
The Tissot PRX Chronograph is a beautifully designed timepiece that combines both elegance and functionality. Its sleek, stainless steel case measures in at 42mm, making it the perfect size for any wrist. The black dial is adorned with silver-tone hands and index hour markers, giving it a classic, yet modern look.
One of the standout features of the PRX Chronograph is its chronograph function. The watch is equipped with three sub-dials, allowing the wearer to track elapsed time easily. The sub-dials are placed at the 3, 6, and 9 o'clock positions, and are easy to read thanks to the use of silver-tone hands and white markings. The chronograph function is operated by the two push buttons on the right side of the case.
In addition to its chronograph function, the PRX Chronograph also features a date display at the 4:30 position, adding an extra level of practicality to the watch. The date display is easy to read thanks to the use of a white background and black font.
The Tissot PRX Chronograph is powered by a Swiss quartz movement, ensuring its timekeeping accuracy. The watch also has a water resistance of up to 100 meters, making it suitable for everyday wear, as well as light water activities such as swimming or snorkeling.
One of the things that sets the PRX Chronograph apart from other watches in its price range is its attention to detail. From the polished bezel to the exhibition case back, the watch exudes quality craftsmanship. The bracelet is made of stainless steel, and features a deployment clasp with a push-button release, ensuring a secure and comfortable fit.
Overall, the Tissot PRX Chronograph is a fantastic timepiece that offers both style and function. It is an excellent choice for those looking for a watch that can be worn both casually and for special occasions. Its attention to detail and high-quality construction make it a great value for the price.